Helen Harnett, Chair, EMIN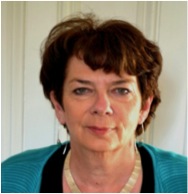 Having practised widely in family and workplace mediation, Helen Harnett was attracted to elder mediation following the 2009 EMIN World Summit in Dublin. She subsequently trained with Judy McCann Beranger and gained EMIN accreditation in 2012. On gaining accreditation, she and four other elder mediators founded Later Life Mediation (www.laterlifemediation.com) to promote and practise elder mediation in Ireland. In addition to coaching and mediation for families, Later Life Mediation provides elder mediation training for mediators and workshops for the general public.
Helen lectures in Dublin City University on Intercultural Communication on the Master's in Intercultural Studies and European Business Programme. She has vast experience in the design and delivery of intercultural training programmes including training for mediators on responding to the challenges of intercultural mediation. As Intercultural Consultant to the Hospice-friendly Hospitals Programme, she designed  a pioneering project to improve the quality of communication between staff, relatives and residents in a residential care facility for older people (2007-2009). Helen is a member of the Third Age Advisory Group and the Stakeholder Group for the Dublin City University Dementia Elevator Project.
Helen served as a Council Member of the Mediators' Institute of Ireland (2009-2013) and MII Director for the Workplace and Organisational Sector (2009-2013).  She designed and managed the inaugural MII Workplace Mediation Awards in 2013
Helen holds a Master's Degree from the University of Nancy in France, an Advanced Diploma in European Studies from the European University Centre in Nancy and a Higher Diploma in Education from TCD. She trains and mediates through French as well as English.